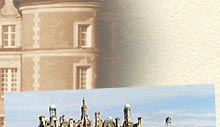 You most certainly have dreamed of a royal drive in the park of a château.
The most majestic " châteaux " open their doors for you, and our bilingual guides will introduce you to the extraordinary history of the Kings of France.
Golf and castles, an exceptional tour on the top golf courses along the Loire Castles accompanied by excellent cuisine.